As the summer heat is rising, so is the need for cooling. Although Wroclaw lies by the beautiful river Oder, we cannot jump in it for a quick swim around to cool off. No worries Folks! Here we have a list of best places within 60km from Wroclaw to enjoy your favourite water sports.
Kunickie lake
The lake is just 55km away from Wroclaw towards Legnica. Easily accessible, just take A4 and you are there within an hour or so. The spot is very popular among locals, fishermen, water sport junkies and most of all kids. You can find there a nice sandy beach to rest on or hire a rowing boat and explore the waters of the Kunickie Lake.
Wroclaw Mine at Paniowice
This is a quite new summer destination located just at the borders of Wroclaw. The village is called Paniowice. This place has a lot to offer. Not only kids will find their dream water playground but also adults can enjoy the surroundings. The Sports Zone was prepared for real adrenaline fans. With a pair of flyboards you can glide above the surface of the water or stay on the ground and use the skimboarding track for "land surfing". You can swim on the SUP board and the BIG BUBBA inflatable couch. There is a mini inflatable aqua park for kids and adults and an equipment rental if you fancy kayaks and water bikes. What's quite important – the lifeguard's on duty to watch over you.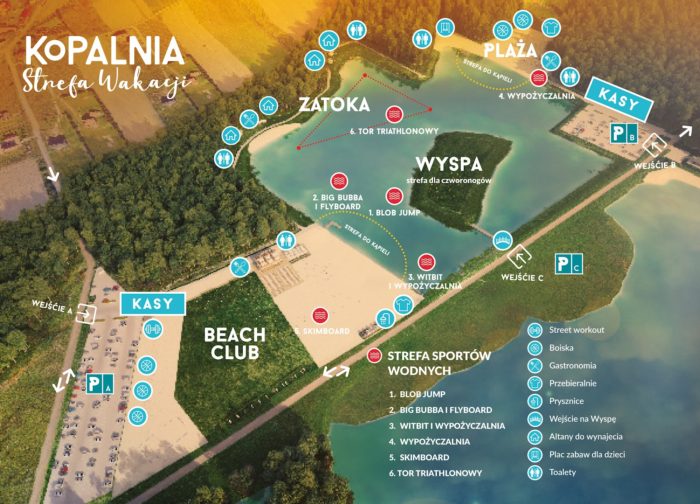 The daily ticket is just 13PLN at the weekend. Concession tickets available.
Bielawskie Lake
It is a nearly 24-ha water reservoir and we may say that it is probably the most beautifully located water reservoir in Poland. This fancy place is just 20km from Wroclaw.
There are numerous attractions for everyone: sandy beach with a lifeguard on duty, a pier, an island, a water equipment rental, outdoor swimming pool with a water slide. Kids can enjoy the playground and the football pitch, volleyball and basketball courts, a gym. You can stay over at a nearby hotel and dine at the restaurant.
Bielawa is not only famous for the lake but also the Sowie Mountains. If you are a nature lover, this place is a must see destination.
Szczodre Pond (Polish: Staw)
This is a perfect fishermen destination. If you come here with a fishing rod, you are bound to catch a fish. There is no infrastructure at the lake so if you want to use a kayak or a boat, you need to bring it with you. This is a place where you find peace and quiet, naked nature, singing birds and clear water. Something Wroclaw doesn't have. The pond is located 17km from Wroclaw city centre, in a village called Szczodre. But remember the pond is unguarded.
White Church (Bialy Kosciol)
Another spot with some fantastic attractions for kids and adults. You can find there a holiday park called "Nad Stawami" which is open every day from 8:00-22:00.
There are 22 modern holiday cottages equipped with bathroom, kitchenette and air conditioning. Kids will find there a paddling pool with slides and a playground.
During the season, a lifeguard ensures everyone is safe on the beach and in the water, so you got that peace of mind.
The holiday park is located around 50km away from Wroclaw, it is easy accessible by car, by bus or by train.
Pierwszy Jelczański Pond (Polish: Staw)
The pond is located only 30km away from Wroclaw. Long sandy beach with a lifeguard on duty make this place a good spot already. There is a tennis court, water sports equipment rental, paid parking, cafe and toilets. So basically everything you need on a trip by the water.
Now, you know where to take your family, missus or a pet when the heat strikes again. Enjoy it well.